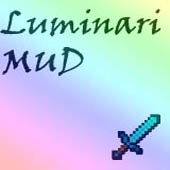 Telnet Address
luminariMUD.com:4100
HomePage
www.luminariMUD.com
MUD Forums
luminariMUD.com/vanilla/
Java/Web Client
www.luminarimud.com/hmud/hmud.html
Language
English
Location
USA
Admin Name
Zusuk
Theme Influence
Fantasy, D20, Dragonlance, Forgotten Realms, Bible (Original lore in development)
Brief Desc
Fantasy-themed, original world in development. Game mechanics heavily influenced by D&D3.5 / D20. We are pre-Beta development at this stage.
Date Added
February 4th, 2013
Codebase
tbaMud - Heavily Modified, Integrating CWG and D20 Codebases
World Size
Huge (10001-20000 rooms)
World Originality
Stock and custom, goal is 100% original eventually
Game Rating
Family
Player Killing
Unrestricted Playerkilling
Roleplaying
Encouraged
Online Status
Open for Testing
Category
Dungeons and Dragons
Ranking Category
Game-Fantasy
Avg Players Online
1-5
Year Created
2012
Vote URL
http://www.topmudsites.com/vote-luminari.html
Features

Supports ANSI Color
Supports MCCP
Supports MSP
Has Quests
Class Based System
Level Based System
Multiclassing
Has Clans/Cabals
Equip saves on exit
Private Messaging System
Accepts Reviews
Free to Play
Hiring Builders
Hiring Coders
Luminari MUD - MUD Description
LuminariMUD is a project combining/bug-checking/documenting of:
tbaMUD / CWG and d20MUD elements
Into one MUD...

Fantasy-themed, original world in development.
Game mechanics heavily influenced by D&D3.5 / D20.
See also
Edit
Ad blocker interference detected!
Wikia is a free-to-use site that makes money from advertising. We have a modified experience for viewers using ad blockers

Wikia is not accessible if you've made further modifications. Remove the custom ad blocker rule(s) and the page will load as expected.